AFRODISIAC TURNS 4 YEARS!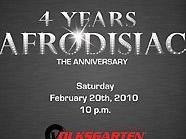 Wow! Stolze 4 Jahre wird AFRODISIAC! Und was machen wir da? Keine Frage, feiern bis zum Morgengrauen!
It's Time! Vienna's Most International Club celebrates its Anniversary!
AFRODISIAC TURNS 4 YEARS!
Biography:
4 years ago, a young man by the name of "Fumy" invented Afrodisiac – an international club mainly hosting the legendary "Webster Parties" – The Most Wanted & Elite Student Parties in Vienna! Afrodisiac grew…..and grew – becoming an event series consisting of young professionals as well as classy & hot scholars! In it's third year Afrodisiac transformed into a higher level developing into Vienna's Most International Club with diverse clientele around the city. Finally the waiting has ended & it's time to celebrate – 4 YEARS @ one the most renowned & deep-rooted locations in Austria – the renowned VOLKSGARTEN!
_____________________________________________________________________
The Music:
A perfect mix of vocal house with upbeat rhythm and blues–
• The Special Guest, Danny La Vega, is the man of the night – finest House music with a smooth electro touch. Mr. ClapClub is going to turn the club into a quaking dance disaster!
• Beshar, No.1 Resident at Afrodisiac, is the cause of success! Back in 2006, Afrodisiac, was a one-man show, Beshar and only Beshar – his creative mixes with commercial house with oriental beats, the man knows it all.
• Shane, STAR DJ on THE RISE, Afrodisiac's House Chef, – tech-house, vocal house, & progressive mixes. This is truly a house expert. Club Cosmopolitan's New Resident will surprise you with the orgasmic surprises.
• Chris, Birthday DeeJay, over 11 years of experience, a Father of Hip Hop & RnB knows it Upbeat! The Birthday Boy will have the dance floor shake until it cracks.
• And last but not least, LEXSTRADAMUS, Vienna's No 1. Urban DJ in the scene! Soul Melodies with a hint of upbeat swings.
_____________________________________________________________________
Live:
• THE ELECTRIC GUITAR to HOUSE MUSIC by JOEL BOYD &
• PERCUSSIONS by MATTHEW PROKOP
(lehnenmusic.com)
• MC FIZZY R. the voice of the PlainNerdz & Sneaker Disco
• BEATBOXER KAREEM will perform to House & RnB!____________________________________________________________________
HARDFACTS:
4 Years Afrodisiac
SATURDAY, FEBRUARY 20th
@ Volksgarten Clubdico
On The Decks:
• Danny La Vega – Beshar – Shane – Chris – Lexstradamus
Live Performances by Lehnen Music:
• Joel – Electric Guitar
• Matthew – Percussions
On the Mic:
• MC Fizzy R.
• Beatboxer: Kareem
**Get a free copy of the Afrodisiac Compilation!
Jetzt zur VIENNA.AT Startseite